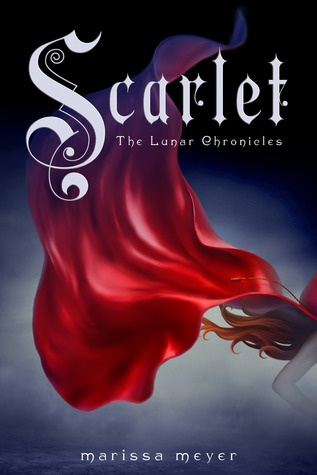 TITLE:
SCARLET
BY:
MARISSA MEYER
SYNOPSIS:
Cinder, the cyborg mechanic, returns in the second thrilling installment of the bestselling Lunar Chronicles. She's trying to break out of prison--even though if she succeeds, she'll be the Commonwealth's most wanted fugitive. Halfway around the world, Scarlet Benoit's grandmother is missing. It turns out there are many things Scarlet doesn't know about her grandmother or the grave danger she has lived in her whole life. When Scarlet encounters Wolf, a street fighter who may have information as to her grandmother's whereabouts, she is loath to trust this stranger, but is inexplicably drawn to him, and he to her. As Scarlet and Wolf unravel one mystery, they encounter another when they meet Cinder. Now, all of them must stay one step ahead of the vicious Lunar Queen Levana, who will do anything for the handsome Prince Kai to become her husband, her king, her prisoner.
RATING:
4.5 OUT OF 5 STARS
REVIEW:
I was worried that, with Scarlet and Wolf coming into the the picture that I wouldn't get enough of Cinder and Iko, and that it would maybe be less enjoyable than the first. Again, apparently as ever, I was wrong. Scar's and Wolf's addition only enhanced my reading experience. Turns out I should trust Meyer to know what she's doing, because their parts are pretty integral to the story.
Once again, Meyer weaves a splendiferous tale of trial and tribulation, intrigue and action, romance and drama! And just like the characters in the first book, the new additions are a delight! Honestly, you could just read the story for the characters. I want to hang out with all of them (the good guys that is)!
Character Breakdown
:
Cinder:
Part robot, full snarky mechanic.
Iko:
Sassy R2-D2 wants to be pretty.
Kai:
Prince charming in every sense. Looks good in a hoodie *swoon*.
Scarlet:
Hot-tempered redhead with licenses to carry & fly spaceships.
Wolf:
Teen Wolf does street fighting.
Grandma:
Retired military pilot does Bristol Farms,
Thorne:
Space Captain Jack Sparrow minus the rum.
Queen Levana:
The Predator in Hot Girl disguise.
And if that doesn't pull you in, I don't know what will.
SCARLET may be even better than its predecessor, CINDER...and if that's any indication of how CRESS will turn out, I can't wait to see what the next book has in store!